Welcome
With over 20 years experience working in the Stainless Steel valve industry, we had noticed that there was a gap in the market for an experienced Metal Polisher in Central Scotland.
Lindsay & Sons Metal Polishers were founded in 2003. Over the last six years, we have built a loyal customer base and developed many friendships. We specialise in one off design pieces and we always work closely with our clients to achieve the best possible finish.
We work closely with the local community, and our local customers have recently had their homes renovated by the local housing association and have brought us door handles to polish, no job is too small for us and we are delighted to be of service to the local community, as well as the industrial community.
We finish all of our customers work to the standard we would expect if we were paying for this service ourselves as you can see from the images of a small sample of the work we do.
Our business is going from strength to strength, and even in these difficult times, we are well placed to take Lindsay &amp Sons forward by continuing to provide the high quality of service our customers demand.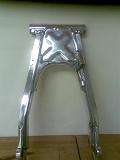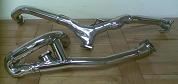 In addition to our polishing service, we also provide the following: A chrome &amp gold plating service and an engraving service. This provides our customers with the peace of mind and convenience of "A one stop shop"
If you would like to see examples of our work, we would be more than happy to arrange a visit to your premises or arrange for you to visit or work shop.
This is just a small selection of the work we undertake: Aluminium castings, aluminium brass and stainless plate. Stainless steel tube, sinks, frames, stainless steel tables and chairs. Brass and copper antiques, coal buckets, door furniture, motorbike and car parts, cutlery and all kitchen wear and utensils. We can polish just about anything you care to mention, and please don't be concerned about the bulk and weight of your work, we have a forklift on site.